You are here: Home » News & events » Uvaggio e Viaggio nel Mondo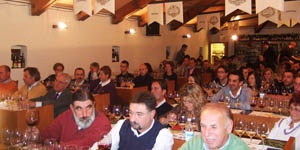 Uvaggio e Viaggio nel Mondo
29. 10. 2010
Invited by the most famous wine shop in Friuli, Enoteca di Cormons, Milijan Jelic winery held wine tasting in the Collio wine region, in city of Cormons, Italy. This was the first time that some Serbian winery had its own wine presentation in this well-known wine region.
Wine tasting was held in two days.
Our winery used the visit to promote the whole Serbian wines through the wine story about past, present and future times of Serbian winemaking.
The first day, five types of wine were being tasted: Morava 2009, Petka kasna berba 2007, Chardonnay barrique 2008, Mammoth 2007 & Millennium 2007. Enoteca di Cormons was filled to the last seat and event was attnded by key-wine producers, president of the Center of Enoteca di Cormons, teachers of winemaking at Universitata di Udine, director of training Association of Sommeliers of Italy, local sommeliers, representatives of the company for import of wines.
The second day, in the City Hall "Palazzo Locatelli" a Festival of blends of white and red wines was held Italian and Slovenian wine-makers, under the title "Uvaggio e Viaggio nel Mondo", where Milijan Jelic winery presented Bordeaux blend-Millennium barrique 2007 as the only producer from Serbia.
The Festival was attended by hundreds of domestic guests, but also by wine-lovers from Austria, Slovenia, Belgium and Germany. Millennium wine left unexpectedly good impressions on them and encouraged their desire to visit our country as well as other great wineries in Sebia.