You are here: Home » The estate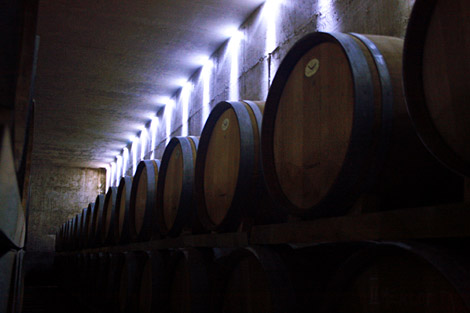 Vineyards extend over several locations near Valjevo. Over the total area of over 20 hectares, the dominant cultivars are: Morava, Chardonnay, Sauvignon Blanc, Pinot Grigio and Petka considering whites, Pinot Noir and Merlot considering reds. After experimenting with some of other worldwide famous cultivars, Milijan Jelic nonetheless decided that the main sort in the vineyard should be Morava and Prokupac. Soon after first excellent results in 2004, it was undoubted that Morava could provide world quality and in a very short time it became extraordinary popular with domestic and international wine connoisseurs. The first commercial wine made of grape of this cultivar Tamuz Morava 2005 won the "Champion of White Wines" title already the next year, 2006, at the Novi Sad fair. Prokupac, however, has already confirmed its great potential in Serbia several times through wine of vintner colleagues and showed that under tough yield control in vineyards it can deliver elegant wine with an exceptional character.
The very winery is situated at the property in Bujacic, nearby the family house. The heart of the wine cellar comprises modern section for processing grape, production, aging and bottling of wine. Except the underground space, within the winery are also two halls for degustation which are regularly visited by individual wine lovers, as well as organized tours with a lot of visitors. The spacious tasting room, with the semi-closed balcony and vineyard view, equipped with audio-visual items, is used more and more as multi-functional room for meetings, seminars or team building weekends for various companies. Catering for events is provided by the family Jelic restaurant ''Tre Merli'' which is situated in the centre of Valjevo. Due to full service offer, Serbian Tourist Council awarded a prize ''Tourist Flower 2009'' to the very winery Milijan Jelic in the category wine cellar.