You are here: Home » Tasting room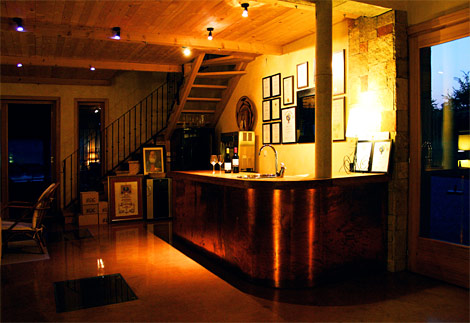 In 2008, a luxurious tasting room in the "bar & lounge" style was built above the underground space of the winery and since then it is constantly visited by many wine lovers from Serbia and abroad, both individuals and organized tourist groups. It depends on you and your state of mind if you decide for professional group tasting at the table, simple enjoying a glass of wine and relaxing near the fireplace with your partner, quick four-wines tasting at the bar, or you may prefer to sweeten your working day with a lunch on the terrace while your business partners are being impressed by a beautiful view of the vineyards and the mountains of Valjevo.
Some companies just love our "team building" weekend programme, which the winery and the restaurant staff can entirely organize for you.
In the tasting room, everything you need is ready for you to feel like at home. If you happen to visit the winery during the harvest season, you can follow what's going on in the cellar through the glass windows in the floor, watch the entire process of winemaking by yourself and feel the right atmosphere of the very moments, when wine grape turns into wine…
Working hours: Monday - Saturday 10 - 16h